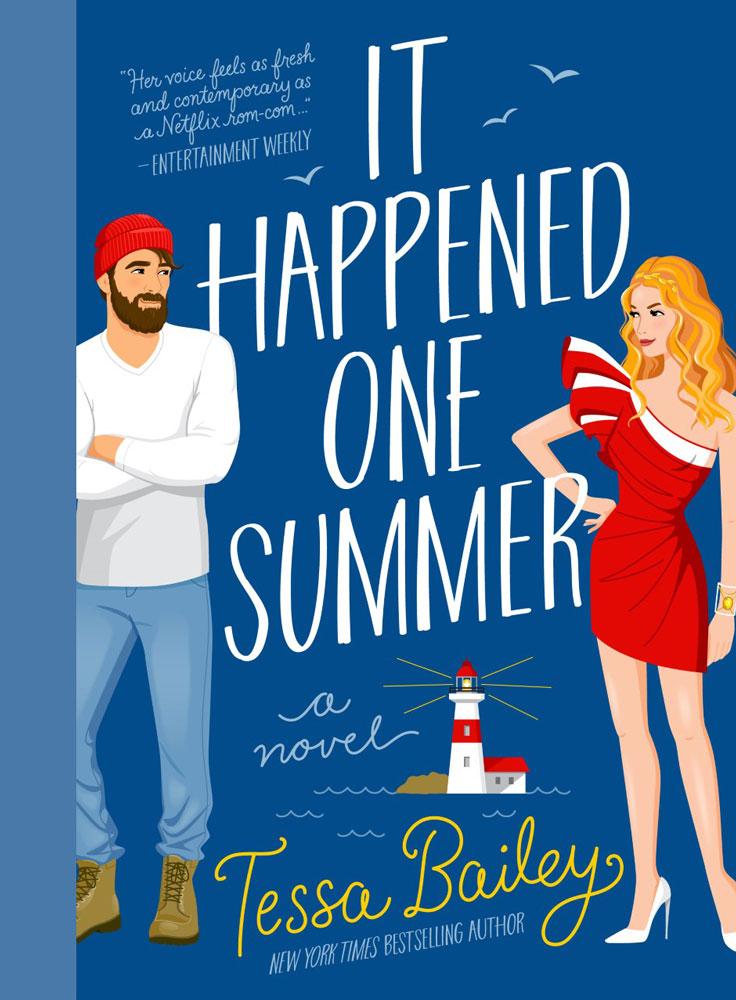 It Happened One Summer
Bellinger Sisters Book 1
"Tessa Bailey is back with a Schitt's Creek-inspired rom-com about a Hollywood "It Girl" who's cut off from her wealthy family and exiled to a small Pacific Northwest beach town… where she butts heads with a surly, sexy local who thinks she doesn't belong. 
As seen on E!Online, PopSugar, CNN, EliteDaily, Vulture, Buzzfeed, Bustle, the Nerd Daily, PARADE, LA Magazine, Country Living, USA Today, and more!
Piper Bellinger is fashionable, influential, and her reputation as a wild child means the paparazzi are constantly on her heels. When too much champagne and an out-of-control rooftop party lands Piper in the slammer, her stepfather decides enough is enough. So he cuts her off, and sends Piper and her sister to learn some responsibility running their late father's dive bar… in Washington.
Piper hasn't even been in Westport for five minutes when she meets big, bearded sea captain Brendan, who thinks she won't last a week outside of Beverly Hills. So what if Piper can't do math, and the idea of sleeping in a shabby apartment with bunk beds gives her hives. How bad could it really be? She's determined to show her stepfather—and the hot, grumpy local—that she's more than a pretty face.
Except it's a small town and everywhere she turns, she bumps into Brendan. The fun-loving socialite and the gruff fisherman are polar opposites, but there's an undeniable attraction simmering between them. Piper doesn't want any distractions, especially feelings for a man who sails off into the sunset for weeks at a time. Yet as she reconnects with her past and begins to feel at home in Westport, Piper starts to wonder if the cold, glamorous life she knew is what she truly wants. LA is calling her name, but Brendan—and this town full of memories—may have already caught her heart.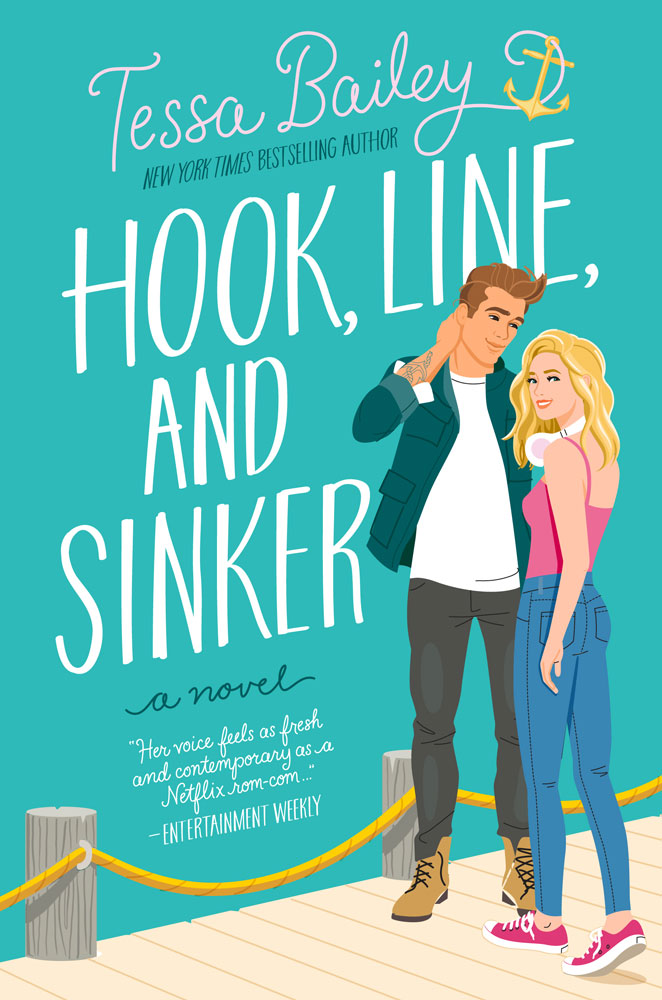 Hook, Line, and Sinker
Bellinger Sisters Book 2
In the follow-up to It Happened One Summer, Tessa Bailey delivers another deliciously fun rom-com about a former player who accidentally falls for his best friend while trying to help her land a different man…
King crab fisherman Fox Thornton has a reputation as a sexy, carefree flirt. Everyone knows he's a guaranteed good time—in bed and out—and that's exactly how he prefers it. Until he meets Hannah Bellinger. She's immune to his charm and looks, but she seems to enjoy his… personality? And wants to be friends? Bizarre. But he likes her too much to risk a fling, so platonic pals it is.
Now, Hannah's in town for work, crashing in Fox's spare bedroom. She knows he's a notorious ladies' man, but they're definitely just friends. In fact, she's nursing a hopeless crush on a colleague and Fox is just the person to help with her lackluster love life. Armed with a few tips from Westport's resident Casanova, Hannah sets out to catch her coworker's eye… yet the more time she spends with Fox, the more she wants him instead. As the line between friendship and flirtation begins to blur, Hannah can't deny she loves everything about Fox, but she refuses to be another notch on his bedpost.
Living with his best friend should have been easy. Except now she's walking around in a towel, sleeping right across the hall, and Fox is fantasizing about waking up next to her for the rest of his life and… and… man overboard! He's fallen for her, hook, line, and sinker. Helping her flirt with another guy is pure torture, but maybe if Fox can tackle his inner demons and show Hannah he's all in, she'll choose him instead?
PRE ORDER: